I have been lucky enough to have made a few appearances with my work over the years. Mainly in association with the designer Julia Kendell.
"Peter Andre's 60 Minute Makeover" ITV1
Camberley – 1st Transmission date 11th December 2013
The brief was to come up with a solution for two alcoves and a chimney breast. the designer, Julia Kendell, wanted the artwork to be based on Hindu architecture and ornamentation. My friend Chris Westall and  myself designed three MDF panels that were cut to shape. We then painted them in a carved stonework trompe l'oeil effect before they was installed.
"DIYSOS" for the BBC Children in Need Special 2009,
 "The Big Build" comes to Gaerwen, on Anglesey.
Although Chris and I appear very briefly, with no reference to what we did, we were there for three days and we did paint a small boy's wardrobe with a trompe l'œil Tardis, as well as doing a UV responsive cosmic ceiling in his bedroom.
The transmission date was 8.00 pm Thursday 10th December 2009.
"DIYSOS" for the BBC series 17, prog. 5, Gosport.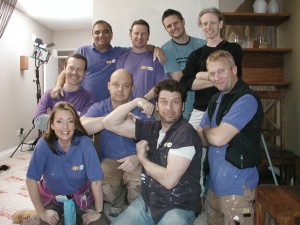 I appear on this with Chris Westall and the cheeky boys. Together, Chris and I paint a trompe l'œil stone work column, and I do a corner 3D piece.
The transmission date was 8.30 pm Friday 19th September 2008.
Whilst I was painting the bottom of my table legs, Billy asked me "why don't I move the table to paint the skirting?"….
"60 Minute Makeover" on ITV1 (UK) series 5. First shown in 2007.
I appeared on these three shows with Chris Westall, working with Julia Kendell.
Yes it was all done in 1 hour!
Though actually we only get 30-40 minutes, not an hour, as the walls have to be painted first, dried with hair dryers and then once started we have to get out early so the carpet can be laid! The shows are frequently repeated on ITV1.
"60 Minute Makeover" on ITV1 (UK) series 5.
Erith, Kent. First shown 8.11.07 Where I paint an Alphonse Mucha copy wall panel.
Mucha died in 1939, so we were within 75 years of that event and his work was still the property of his estate. This meant obtaining a licence to copy it.
"60 Minute Makeover" on ITV1 (UK) series 5.
Frinton, Essex, first shown 19.11.07.
I airbrush a Hubble telescope cosmic view of stars for a LED light display panel.
"60 Minute Makeover" on ITV1 (UK) series 5.
Bridgewater, Somerset  First shown 5.12.07
"An African Afternoon" mural. This whole wall took us 45 minutes! I prepared a template to put the figure on as quickly as possible, whilst Chris literally bashed in the background.
"Mastering the Art" on Sky Arts, Sky channels 267/268,
I was in Episode 6, "Sargent", First shown 12.12.07.
In each episode John Myatt teaches three artists from differing fields and backgrounds the techniques and skills to create their own "masterpiece". Each programme will focus on the work of a different master, understanding their life and mindset and how this influenced their individual style while at the same time learning the weird and wonderful techniques John (a now famous once-forger) used to fool the experts time after time.