you are visiting Gordon Collett's artist site, www.muralartist.co.uk for murals, trompe l'oeil, portraits & illustration
---
GORDON COLLETT:

ARTIST'S C.V., etc.

select logo on the left to
return to previous page.
otherwise please scroll down
I hope you have enjoyed my work.
---
I am a muralist, specialising in the manipulation of apparent space by the use of architectural trompe l'œil murals. I am also interested in emulating or reproducing period-styles.
I have painted murals in the UK, France, Spain and Holland for many private and commercial clients.
I also do oil on canvas portraiture, and pen and ink illustration work, particularly for Ex Libris designs.
Plus I will undertake copyist work under licence.


A SHORT C.V.: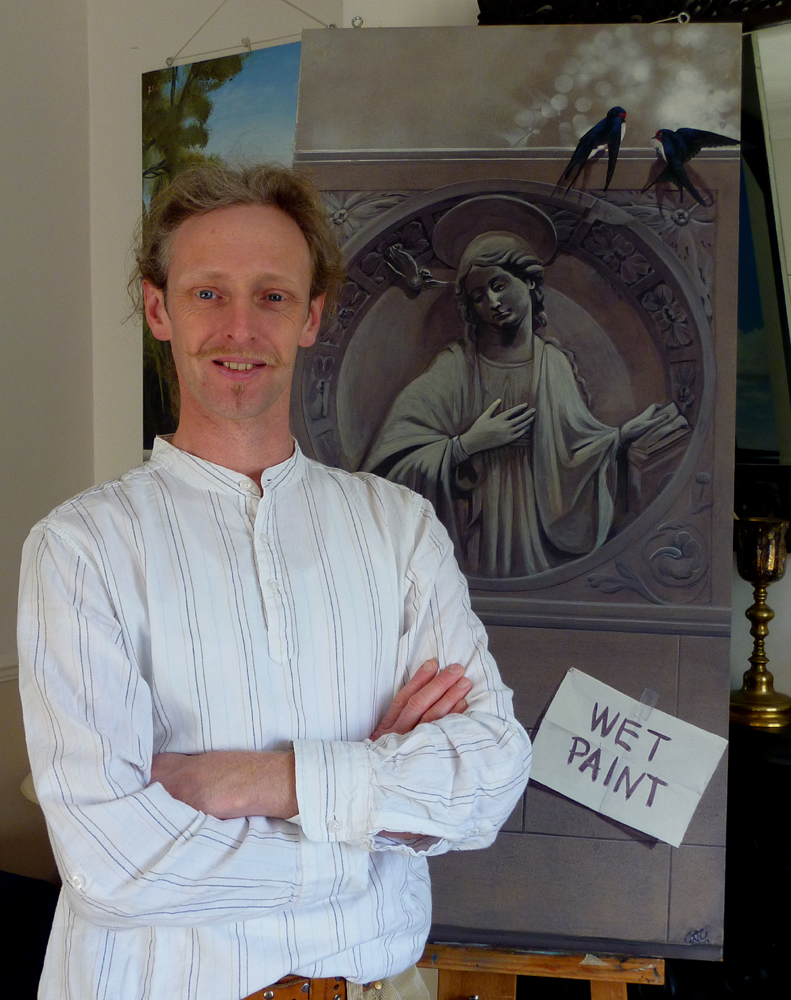 Here I am in 2010, the old picture had been here for ten years!
I was born in 1965, and grew up wanting to study marine zoology, which I did: graduating in 1986, UCNW Bangor. However at college, I decided to be a commercial artist instead.

1986 I intended to establish myself as a zoological illustrator, this being an off-shoot from my degree work.
1987-88, saw this intention divert me to be an illustrator for the Gwynedd Archaeological Trust. Here I was mainly concerned with the display and publicity material; involving a bit of 3D as well.
1989 on, and currently intermittant, I became a freelance illustrator, working for Fleetway, Mary Glasgow Scholastic and diverse others.
1995 to present, sees my main concern being mural work, particularly trompe l'œil and period styles. Working across Britain and Europe for both private individuals and commercial clients. I have had many opportunities to work abroad and am quite happy for this to continue to be the case.
As for portraiture, this is my own special interest, regularly entering the BP Award.
2007 brought me some TV appearances: "60 Minute Makeover" on ITV1 (UK); and "Mastering the Art" on Sky Arts.
2008 September saw me painting a trompe l'œil on BBC's "DIY SOS". A portrait of mine got to final day of judging in the BP. In November, encouraged by this I publically exhibited my portraits for the first time at the 2008 Windsor Contemporary Art Fair. 2009 saw my first public commission at Battle Library, Reading. Also international recognition arrives as I am invited to be included in the 2010 annual "Contemporary International Ex-Libris Artists". More TV in that I was asked to paint a mural for the "Children in Need" DIYSOS special for the BBC, broadcast in November.
2010 And another near miss at the BP Award! I am one of the founding members of "Angle Pose", the Windsor professional life-study group. The 2010 annual "Contemporary International Ex-Libris Artists" starts to generate commissions.
2011 For the third time in four years I get to the final judging day at the BP Award. However I do get a picture in to the Society of Equestrian Artists Open Exhibition in August.
2012 Several months as artist-in-residence for the Creative Schools Network in Windsor, goes into 2013.
2013 In collaboration with Cosmo Sarson we get a Public Art Commission from the London Borough of Hillingdon, funded by the GLA in conjunction with TfL. The Northwood Hills Town Regeneration Murals, are at least the fourth biggest Vitreous Enamel mural series in the UK.
2014 Public Art Commission from the Royal Borough of Windsor and Maidenhead (RBWM) with Heritage Lottery Fund- a mural for Windsor library.
Plus another mural series for the London Borough of Hillingdon in Ruislip.
Then "Memories", a series of trompe l'œil murals for a Maidenhead dementia care home, also through RBWM.
September saw us (in collaboration with Cosmo Sarson) shortlisted for London Road Regeneration Area major artworks by Brighton & Hove City Council.
2015 The "Memories" series of murals for a Maidenhead dementia care home are finished and installed.
Public Art Commissions from: London Borough of Hillingdon Council with GLA, Royal Borough of Windsor and Maidenhead with Heritage Lottery Fund; Borough of Reading Library Services.
Commercial clients have now included: Crayon-Art (Café Rouge); 3DEye (Dior); plus Freeport Leisure; Liberty; Dickins and Jones/English National Ballet; Bejo; Warner Bros. Studio Stores; Mothercare Stores; 20th Century Fox (display props); Tesco Super Stores; HMV; and Kookai.
Scenic art for the BBC and Royal National Theatre.

---
directory

e-mail me

modus
operandi